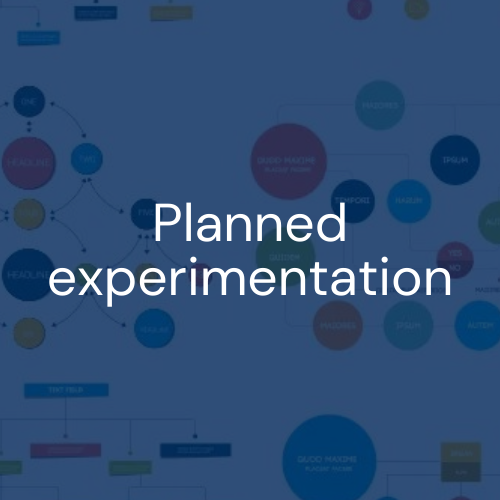 If you have ever asked, "How do I know which of the changes I am testing is actually having a significant impact on the outcome of interest?" this 12-hour workshop on planned experimentation is for you!
Many projects may have multiple direct and indirect factors affecting the outcome. There may also be factors you have not thought about or included in your project. If a model explains only a relatively small amount of the variation in the dependent variable, it would be considered a rather weak model. In addition, there may be multiple interactions between independent variables that impact the outcome. So how do you tease apart the messiness of this typical project scenario and make improvements?
Planned experimentation (PE), an adaptation of design of experiments developed and used extensively in agriculture and manufacturing, has been used widely in health and social service arenas, and is the statistical approach that we will focus on to assist you in teasing out the answers to these important questions. It will help you to determine which factor or combination of factors are impacting the outcome the most.
By the end of the program, you will gain:
An understanding of PE concepts, methods, and tools
An ability to design a factorial PE
The statistical and graphical skills needed to analyze and interpret a PE
IMPORTANT: Prerequisite to attend
A prerequisite for participation is foundational knowledge in developing and using statistical process control charts (SPC) to measure improvement.
Dates and times:
Thursday, Jan. 13, 2022, 7-9 p.m. EST
Thursday, Jan. 27, 2022, 7-9 p.m. EST
Saturday, Feb. 12, 2022, 9 a.m. to 1 p.m. EST
Thursday, Feb. 24, 2022, 7-9 p.m. EST
Thursday, Mar. 10, 2022, 7-9 p.m. EST
Cost:
$1,000 – non-members
$800 – CQUIPS+ members (20% discount!)
---
Speaker:
Bob Lloyd, PhD, Vice President, Institute for Healthcare Improvement (IHI), provides leadership in the areas of performance improvement strategies, building capacity and capability for improvement, statistical process control methods, and development of strategic dashboards. He also serves as faculty for various IHI initiatives and demonstration projects in the US and abroad. Before joining IHI, Dr. Lloyd served as the Corporate Director of Quality Resource Services for Advocate Health Care (Oakbrook, IL), Director of Quality Measurement for Lutheran General Health System, Senior Director at the Hospital Research and Educational Trust of AHA, and spent ten years with the Hospital Association of Pennsylvania in various leadership roles. He is author of numerous articles, reports, and books.