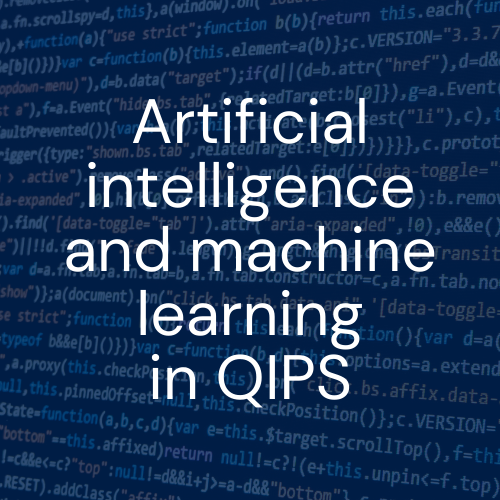 Artificial intelligence (AI) and machine learning (ML) is an area that is exploding! We constantly hear about its potential to transform how we work and care for patients. But what is AI/ML exactly? And how can quality improvement and patient safety (QIPS) practitioners and AI/ML experts combine efforts? In this three-hour interactive session, we will review how AI/ML is being integrated into healthcare processes and services, as this is where AI/ML and QIPS complementary skills will emerge. Rarely do AI/ML systems deliver services on their own. It is much more likely that clinical teams will interact with AI/ML systems to provide care. You will learn the fundamentals of AI/ML and how to determine when to incorporate AI/ML in your QIPS work. Through the use of examples, you will learn to identify how improvement science methods can help answer questions related to how AI/ML systems can support clinicians, and how their interaction can be optimized. You will walk away knowing how to critically appraise when AI/ML is of value for your project and how it should be used.
Objectives:
Describe the basic definitions of artificial intelligence (AI) and machine learning (ML)
Understand and apply fundamental concepts of AI for health applications
Recognize use of AI/ML in health
Critically appraise AI/ML applications in health
Determine how AI/ML will be incorporated into clinical processes and services
Assess current conditions that are best for AI/ML (e.g., domains that rely on pattern recognition, classification and prediction)
Recognize that QIPS research should accompany the development of AI/ML from the outset.
Date and time:
Wednesday, December 8, 2021, 2-5 p.m. ET
Cost:
$400 – non-members
$300 – CQUIPS+ members (25% discount!)
---
Speakers:
Dr. Patricia Trbovich is Associate Professor in the Institute of Health Policy, Management and Evaluation and cross appointed at the Institute of Biomedical Engineering at the University of Toronto. She holds the Badeau Family Research Chair in Patient Safety and Quality Improvement at North York General Hospital. Patricia leads HumanEra, a team of human factors researchers dedicated to studying and improving safety and performance in healthcare. Her current research includes a Canadian Institutes of Health Research (CIHR) funded project focused on improving opioid guidance for Canadian hospitals, and a Natural Sciences and Engineering Research Council (NSERC) funded program focused on operator decision making during uncertainty in surgery, using the Operating Room Black Box. She has promoted knowledge of human factors engineering worldwide through her collaborations with researchers in Brazil and Spain to develop human factors expertise in their healthcare systems. She is Associate Editor for the BMJ Quality and Safety journal.
Dr. Amanda Mayo is a full-time Clinician in Quality Improvement Physiatrist at Sunnybrook Health Sciences Centre, and Assistant Professor in the Department of Medicine at the University of Toronto. She subspecializes in Amputee Rehabilitation. Amanda has a MHSc in Clinical Engineering with a focus on Human Factors Engineering and Usability of Health Technology. Her current QI focus is on improving the continuum of care for individuals with limb loss and preventing dysvascular amputations. Recent projects include reducing wait-times for outpatient rehabilitation, Implementing Prehab for vascular patients, 3D printing of prosthetics, and innovating care pathways for amputees.
Dr. Laura C. Rosella is the Principal Investigator and Scientific Director of the Population Health Analytics Lab. She is an Associate Professor in the Dalla Lana School of Public Health at the University of Toronto, where she holds Canada Research Chair in Population Health Analytics. In 2020, she was made the Inaugural Stephen Family Research Chair in Community Health at the Institute for Better Health, Trillium Health Partners. Her additional scientific appointments include the Vector Institute and Site Director for ICES UofT. Her research interests include population health, predictive models to support public health planning, and population health management. She specializes in using advanced analytic methods to leverage existing population data to support public health decisions. Most recently she has taken the role as Education lead at the newly formed U of T Temerty Centre for Artificial Intelligence Research and Education in Medicine (T-CAIREM), focused on multidisciplinary, collaborative research in artificial intelligence across the medical and health sciences that translates into real-world settings. She has authored over 150 peer-reviewed publications in the areas of epidemiology, population health, health services research and predictive modelling. Notably, Dr. Rosella was previously awarded the Brian MacMahon Early Career Epidemiology Award by the Society for Epidemiologic Research and was named one of Canada's Top 40 Under 40. She was president of the Canadian Society for Epidemiology and Biostatistics (CSEB) from 2018-2020.