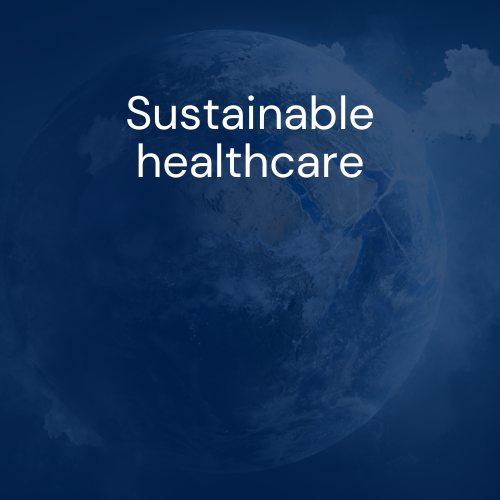 While our healthcare system aims to enhance health and wellness, it contributes to global climate change – the healthcare system is responsible for almost five per cent of Canada's carbon footprint. There's a major opportunity for healthcare to implement sustainability interventions to protect, promote and prioritize health. In this masterclass, learners will have the opportunity to understand how QI approaches and models can be used to enhance sustainability. Brought to life by real-world examples, this masterclass will inspire learners to develop change ideas and use QI for the good of the planet.
Objectives: 
Describe the range of environmental challenges facing the human community, including the environmental impacts of the healthcare sector, and use a planetary health framework to understand the implications for population health

 

Illustrate the use of the CASCADES Project Charter to create sustainable improvement initiatives

 

Apply the CASCADES Project Charter in your healthcare setting to design, measure, and achieve sustainable change

 
Date and time:
Wednesday, May 10, 12-4 p.m. ET
Cost:
$400 – non-members
$300 – CQUIPS+ members (25% discount!)
---
Speakers:
Gillian Ritcey is the Managing Director of the Healthy Populations Institute (HPI) at Dalhousie University and Executive for CASCADES (Creating a Sustainable Health System in a Climate Crisis.) Gillian is an alumnus of Dalhousie, graduating with a Master's in Public Administration. Prior to her current position at Dalhousie, Gillian worked in the Ontario health system in various capacities for ten years; at the Health Council of Canada, the Ontario Medical Association and the majority of her career at the Institute of Health Policy, Management and Evaluation (IHPME) at the University of Toronto. At IHPME, Gillian was the Director of the Ontario provincial quality improvement-training program (IDEAS) and the Director of Continuing Professional Education. During this time, she trained in sustainable quality improvement with the Centre for Sustainable Healthcare in the UK and was a Program Lead in IHPME's Centre for Sustainable Health Systems. She is passionate about building the capacity of health systems to fulfill their core objective of promoting health and health equity
Ernest Byers is the Education and Training Lead CASCADES (Creating a Sustainable Health System in a Climate Crisis.) A dual-citizen, Ernest relocated to Canada from the US in 2018. In Boston, he worked as Manager, Improvement Education & External Collaboration at the University of Massachusetts; coaching and advising C-Suite executives through frontline staff in use of, understanding, and evolution of Lean in the healthcare organization. Toward supporting a sustainable Canadian Healthcare System, Ernest has held several pertinent roles including: Lead, Centre of Excellence & Capability Building at KPMG and Lead for Education & Evaluation at Improving and Driving Excellence Across Sectors (IDEAS) program within the Dalla Lana School of Public Health. Ernest's experience centres on educating healthcare professionals in methods to create and sustain organizational cultures and workplaces of continuous improvement and excellence. His experience is supported by formal degrees (Ed.D and M.A.) and certifications as a Lean Six Sigma Black Belt and Global Leadership Coach.
Dr. Tara Burra is an Assistant Professor of Psychiatry at the University of Toronto and the Physician Lead in Quality Improvement in the Department of Psychiatry at Sinai Health. She completed her Master's in health geography and then attended medical school and residency in Psychiatry at the University of Toronto. Following her specialty training, she completed several certificate courses in quality improvement and patient safety. For six years, she was the service head for adult ambulatory services and co-chaired the quality improvement committee in the Department of Psychiatry at St Joseph's Health Centre, Unity Health Toronto. She has been co-facilitating the development, delivery, and evaluation of the quality improvement curriculum for Psychiatry residents at the University of Toronto since 2015.She is one of the inaugural co-leads of the Quality, Innovation, and Safety hub in the Department of Psychiatry at the University of Toronto and in 2022 she became the Education Lead for the Centre for Quality Improvement and Patient Safety at the University of Toronto.