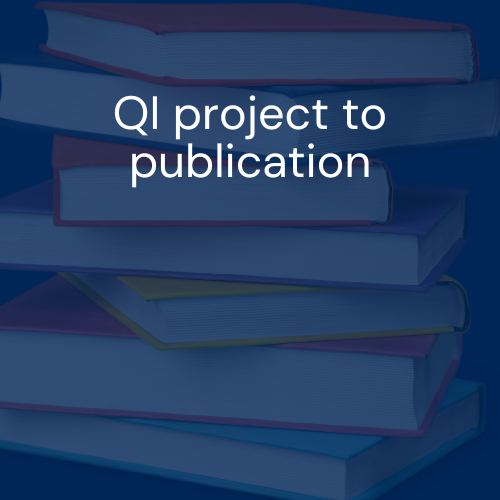 Do you have a quality improvement project or research that you would like to write up for publication? A hastily thrown together abstract is a recipe for rejection; this interactive masterclass will highlight the importance of starting with a strong abstract rather than writing it at the very end. Moreover, a good abstract written early helps you vet the idea and provides an evolving roadmap for the project and manuscript as they unfold. You will learn writing tips and strategies to make readers care about your project, as well as receive individualized feedback on your abstracts and manuscripts from experts and editors at BMJ Quality and Safety.
Objectives:
Determine which projects are worth writing up

Demonstrate the importance of the abstract

Apply strategies for increasing value for your reader

Revise the opening paragraph of your introduction

Critically appraise a journal article

Review common pitfalls of sentence and paragraph structure
Date and time:
Wednesday, June 14, 1-5 p.m. ET
Cost:
$400 – non-members
$300 – CQUIPS+ members (25% discount!)
---
Speakers:
Dr. Kaveh Shojania is Vice Chair (Quality & Innovation) in the Department of Medicine at the University of Toronto, where he also sees patients as a general internist at Sunnybrook Health Sciences Centre. Dr Shojania's research focuses on identifying evidence-based patient safety interventions and effective strategies for translating evidence into practice. Dr Shojania has more than 150 publications indexed in Medline, including in leading journals such as JAMA, the New England Journal, and the Lancet. Google Scholar lists over 19,000 citations to his work with an h-index of 64. And, from 2011-2020, Dr. Shojania was Editor-in-Chief (and then Co-Editor-in-Chief) of BMJ Quality and Safety, which now has the 2nd highest impact factor not just journals covering health care quality and safety, but also all of health services research, clinical informatics, medical education, and health policy.
Dr. Patricia Trbovich is Associate Professor in the Institute of Health Policy, Management and Evaluation and cross appointed at the Institute of Biomedical Engineering at the University of Toronto. She holds the Badeau Family Research Chair in Patient Safety and Quality Improvement at North York General Hospital. Patricia leads HumanEra, a team of human factors researchers dedicated to studying and improving safety and performance in healthcare. Her current research includes a Canadian Institutes of Health Research (CIHR) funded project focused on improving opioid guidance for Canadian hospitals, and a Natural Sciences and Engineering Research Council (NSERC) funded program focused on operator decision making during uncertainty in surgery, using the Operating Room Black Box. She has promoted knowledge of human factors engineering worldwide through her collaborations with researchers in Brazil and Spain to develop human factors expertise in their healthcare systems. She is Associate Editor for the BMJ Quality and Safety journal.