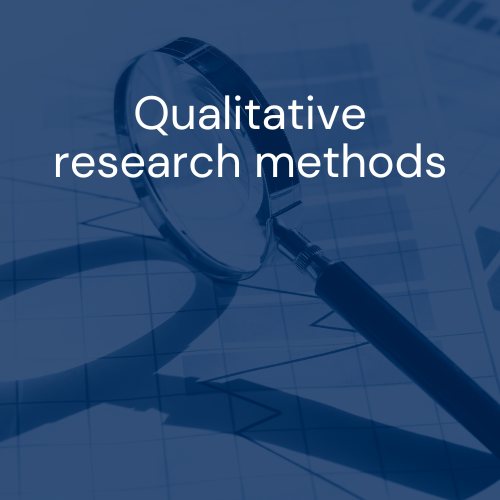 A qualitative research approach can be useful at various stages of a quality improvement project – from developing a deeper and more comprehensive understanding of your problem, to designing an intervention that addresses the factors influencing relevant practices, to evaluating both the intended and unintended impacts of your improvement efforts. Opportunities for a qualitative research approach to optimize a QI project are often missed. In this masterclass, we will cover the foundations of using qualitative approaches in QI and work with participants to think about how a qualitative research approach could complement the QI methodology within their individual projects.
Note: Participants should have a foundation of QI knowledge and are encouraged to submit a QI project proposal/idea/work in progress at least two weeks prior to the session.
Objectives:
Develop an outline for a qualitative research approach in your QI project (e.g., formulate a qualitative research question, create a sampling strategy, design an interview/focus group/observation guide, plan for data analysis)

 

Develop an understanding of the social and contextual factors that are critical to understand as you plan, implement and evaluate your QI project

 
Dates and times:
Wednesday, September 27, 9-11:30 a.m. ET
Wednesday, October 11, 9-11:30 a.m. ET
Cost:
$400 – non-members
$300 – CQUIPS+ members (25% discount!)
---
Speakers:
Dr. Katie Dainty is a Research Chair in Patient-Centred Outcomes at North York General Hospital and Associate Professor in the Institute of Health Policy, Management and Evaluation (IHPME) at the University of Toronto. Her research involves studying issues related to patient and family experience, implementation science, patient-centred outcome measures and quality improvement in community health care environments with a specific focus on survival from sudden cardiac arrest.
Dr. Joanne Goldman is a Scientist at the Centre for Quality Improvement and Patient Safety, Cross-Appointed Researcher at The Wilson Centre for Research in Education, and an Assistant Professor in the Department of Medicine at the University of Toronto. Her research involves the use of social science theory and qualitative research methodologies to study quality improvement and patient safety education and practice, interprofessional education and practice, and continuing professional development.
Dr. Leahora Rotteau is the program manager and a researcher at the Centre for Quality Improvement and Patient Safety (CQuIPS). She brings expertise in strategic management and qualitative healthcare research to the team. Her primary research interests include the use of qualitative methods and social theory to better understand how and why certain interventions are taken up and spread in practice and the exploration of the social and structural factors that enable the integration of care across acute, primary, and community sectors. In 2021, Leahora received her PhD from the University of Toronto, Institute for Health Policy, Management, and Evaluation.