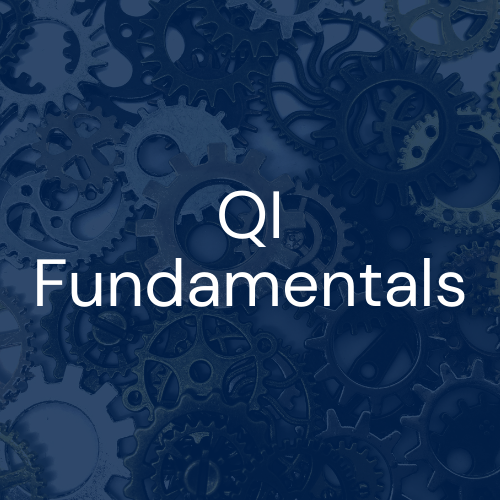 The two-part QI Fundamentals Course (part one: July 14, 1-5 p.m. ET; part two: Aug. 25, 1-5 p.m. ET) provides a general overview of key QI concepts and tools that prepare participants to contribute effectively to local improvement initiatives. This introductory course combines short theory bursts with interactive exercises and small group discussions to make for an engaging and effective learning experience. Topics covered include:
Choosing a QI project;
QI measures;
QI diagnostics (e.g., Fishbone diagram, process mapping, Pareto charts);
Mapping interventions to root causes;
Plan-Do-Study-Act cycles; and
Stakeholder engagement.
Objectives:
Identify common quality problems that are suitable for improvement efforts within a local context
Describe the key elements of the Model for Improvement QI framework
Apply common QI tools (e.g., Fishbone diagram, process mapping, PDSA, run charts) to address quality problems
Contribute to organizational QI initiatives as members of an interprofessional team
Dates and times:
Wednesday, July 14, 2021, 1-5 p.m. ET
Wednesday, August 25, 2021, 1-5 p.m. ET
Cost:
$500 – non-members
$375 – CQUIPS+ members (25% discount!)
---
Speakers:
Dr. Amanda Mayo is a full-time Clinician in Quality Improvement Physiatrist at Sunnybrook Health Sciences Centre, and Assistant Professor in the Department of Medicine at the University of Toronto. She subspecializes in Amputee Rehabilitation. Amanda has a MHSc in Clinical Engineering with a focus on Human Factors Engineering and Usability of Health Technology. Her current QI focus is on improving the continuum of care for individuals with limb loss and preventing dysvascular amputations. Recent projects include reducing wait-times for outpatient rehabilitation, Implementing Prehab for vascular patients, 3D printing of prosthetics, and innovating care pathways for amputees.
Dr. Olivia Ostrow is an academic clinician and the patient safety lead for the Division of Paediatric Emergency Medicine at the Hospital for Sick Children, and an assistant professor in the Department of Paediatrics at the University of Toronto. She is the associate director for the Centre for Quality Improvement and Patient Safety (C-QuIPS) and is currently a medical safety leader at the Hospital for Sick Children. Dr. Ostrow is the pediatric lead for the Using Antibiotics Wisely Campaign with Choosing Wisely Canada and co-chairs the provincial Emergency Department Return Visit Quality Program with Ontario Health Quality. She is also the director for Co-Learning in Quality Improvement Course for the Department of Pediatrics.
Marie Pinard is the Director of Quality, Safety and Patient Experience at Women's College Hospital. Previously she was the manager of the Quality Management Department at The Hospital for Sick Children, where she had also worked for over 25 years in a variety of clinical roles including as a front-line nurse in Haematology/Oncology, a specialist in Infection Prevention & Control and Manager of Emergency Preparedness. She received her BScN at the University of Toronto and completed a MSc in Quality Improvement and Patient Safety at the Institute of Health Policy, Management and Evaluation at the University of Toronto. She is passionate about quality improvement, QI methodology and QI ethics – she spearheaded the development of a robust process for ethical oversight of QI projects at SickKids and has reviewed over 1000 proposals. Her other professional interests include quality monitoring processes, indicator development, patient safety and the science of improvement. She has experience leading hospital accreditation processes through Accreditation Canada, leading strategic projects, investigating adverse events and steering the development of the hospital's annual Quality Improvement Plan (QIP). Marie also holds an appointment at the Institute for Health Policy, Management and Evaluation at the University of Toronto where she is a course instructor in their Masters in Health Administration program.
Dr. Brian Wong is a staff general internist at Sunnybrook Health Sciences Centre and served as CQuIPS Associate Director, Sunnybrook Site, from 2013 to 2019. Dr. Wong received his MD and subsequent specialty training in General Internal Medicine at the University of Toronto. After completing his residency training in 2007, he undertook a research fellowship in patient safety funded by the Canadian Health Services Research Foundation. In his role as CQuIPS Associate Director, he co-led both the Certificate Course and EQUIP and worked with academic departments at the University of Toronto to establish criteria to recognize QI and PS activities for the purposes of academic promotion. Outside of Toronto, he has worked with several national and international organizations, including the Royal College of Physicians and Surgeons of Canada, Choosing Wisely Canada, the Canadian Patient Safety Institute, and the Association of American Medical Colleges, to establish training programs and standards to build QI and patient safety capacity across the learning continuum.