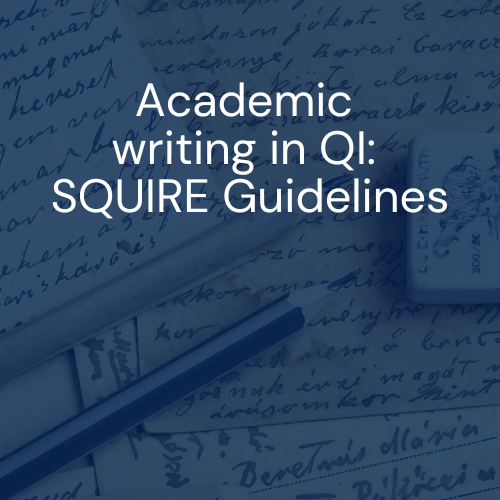 Join us to learn about publishing your QI work! This workshop will focus on the Standards for Quality Improvement Reporting Excellence (SQUIRE) guidelines. We'll review the origin of and application of SQUIRE and provide hands-on support for your writing. Bring your materials and work with faculty and colleagues to move your manuscript forward.
Objectives
Identify the components of the Standards for Quality Improvement Reporting Excellence (

SQUIRE

2.0) that distinguish academic, scholarly QI (rationale, context, study of the intervention)
Expand your writing skills and advance a manuscript you bring (or use this workshop to get started on your writing)
Network with others working on similar goals
Describe the importance of sharing your improvement work through the published literature
Date and time:
Thursday, April 18 2024 12-4 p.m. ET
Cost:
$400 – non-members
$300 – CQUIPS+ members (25% discount!)
---
Speakers:
Greg Ogrinc, MD, MS
Dr. Ogrinc is the Senior Vice President, Certification Standards and Programs, American Board of Medical Specialties (ABMS), collaborating with Member Boards on all aspects of their program of certification, including initial certification and continuing certification. He provides strategic leadership for the ongoing evolution and implementation of ABMS' board certification standards and programming.Dr. Ogrinc previously served as the Senior Associate Dean for Medical Education at Geisel School of Medicine at Dartmouth College and as the Associate Chief of Staff for Education at the White River Junction VA. He currently is a hospitalist at the Jesse Brown VA Medical Center in Chicago and a Clinical Professor of Medicine at the University of Illinois College of Medicine at Chicago.Dr. Ogrinc received his medical degree from Case Western Reserve University School of Medicine in Cleveland, Ohio, and earned a master's degree from Dartmouth Medical School, Center for Evaluative Clinical Sciences in Hanover, New Hampshire. Dr. Ogrinc is board certified by the American Board of Internal Medicine.
Sonal Gandhi
Dr. Sonal Gandhi is a medical oncologist at the Sunnybrook Odette Cancer Centre who treats breast cancer and melanoma. She is an Assistant Professor in The Department of Medicine at the University of Toronto, and has an MSc in International Health Technology Assessment and Management. She is the Regional Quality Lead for Cancer Care Ontario in Toronto Central North. She is a health services researcher with a focus on the quality and safety of cancer therapies, particularly oral medications. She has won departmental and divisional awards for Quality and Innovation. She also helps to lead the neoadjuvant breast cancer program at Sunnybrook, and has a research interest in novel strategies for breast cancer management. She does additional work in improving the quality of cancer patient care at the end of life.
Nely Amaral 
Nely is currently the Senior Director, Nursing Practice (Mount Sinai Hospital) and Clinical Quality (Sinai Health) and the Magnet Program Director for Mount Sinai Hospital. Mount Sinai Hospital is currently the only hospital in all of Canada to achieve Magnet designation and distinction. As the Magnet Program Director, Nely successfully lead the organization to Magnet re-designation in 2021 and is actively in the 2024 re-designation process. Magnet is a voluntary recognition process, for excellence in patient care. It is conducted by the American Nurses Credentialing Centre (ANCC) and is one of the highest achievements a healthcare organization can attain.Nely has extensive experience in leading quality, project management, patient safety and risk review in the organization. Over nearly 30 years at Sinai Health, Nely has assumed progressive leadership opportunities while leveraging her many years of front-line clinical knowledge and experience in the NICU. She is a champion of transformational leadership and fosters a culture of curiosity, enabling adoption and integration of exemplary quality and best practice through innovation, continuous improvement, reflective practice and recognition. Nely was a graduate to the Veterans Affairs Quality Scholar (VAQS) Fellowship program in 2016, successfully being the first nurse in Canada to graduate from the course and she is currently Co-Director and Faculty for the program through the Center for Quality Improvement and Patient Safety (C-QuIPS).