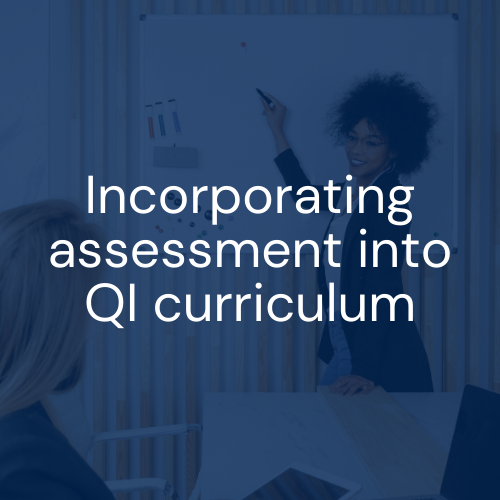 Incorporating assessment into QI curriculum masterclass
Are you an educator or program director responsible for teaching others about quality improvement (QI)?
Are you looking for ways to determine whether your learners have achieved the desired learning outcomes after completing your curriculum?
Do you want to help your learners execute QI projects that achieve the best possible clinical outcomes?
This masterclass, taught by two international leaders in QI education, will introduce participants to the range of published QI assessment tools available to educators and guide them in choosing the most appropriate tools for their QI curriculum. Participants will have the opportunity to practice using various QI assessment tools in order to select the most useful and relevant ones for their training program and determine how best to incorporate them into their QI curriculum. By the end of the masterclass, participants will create an assessment plan that will allow their QI curriculum to improve learner and/or project outcomes.
Date and time:
Thursday, November 17 – 12:00pm-4pm. ET
Cost:
$400 – non-members
$300 – CQUIPS+ members (25% discount!)
---
Speakers:
Brian Wong is a staff general internist at Sunnybrook Health Sciences Centre and served as CQuIPS Associate Director, Sunnybrook Site, from 2013 to 2019. Dr. Wong received his MD and subsequent specialty training in General Internal Medicine at the University of Toronto. After completing his residency training in 2007, he undertook a research fellowship in patient safety funded by the Canadian Health Services Research Foundation. In his role as CQuIPS Associate Director, he co-led both the Certificate Course and EQUIP and worked with academic departments at the University of Toronto to establish criteria to recognize QI and PS activities for the purposes of academic promotion. Outside of Toronto, he has worked with several national and international organizations, including the Royal College of Physicians and Surgeons of Canada, Choosing Wisely Canada, the Canadian Patient Safety Institute, and the Association of American Medical Colleges, to establish training programs and standards to build QI and patient safety capacity across the learning continuum.
Jennifer S. Myers, MD is a hospitalist, Professor of Clinical Medicine, and Executive Director of the Center for Healthcare Improvement and Patient Safety at the Perelman School of Medicine at the University of Pennsylvania. Through this center, she leads a portfolio of educational programs, including a masters program, designed to prepare residents, post-graduate fellows, and faculty for careers in quality and safety research, policy, education, and administration. She also has a role that bridges Penn's graduate medical education enterprise and the Penn Medicine health system in the areas of quality and safety. Her research and medical education innovations have been awarded by the Josiah Macy Foundation, the Gordon and Betty Moore Foundation, the Measey Foundation, the Accreditation Council on Graduate Medical Education (ACGME), and the AAMC's Northeast Group on Educational Affairs. She is the founding and ongoing director of the Quality and Safety Educators Academy, the first national faculty development program in this area which has trained over 600 US faculty and has helped to fill the unmet need for quality and safety educators in our nations' medical schools and teaching hospitals. She is the past Chair of the American Association of Medical Colleges (AAMC) Integrating Quality Steering Committee, the National Board of Medical Examiners Patient Safety Test Development Committee, and is currently an Associate Editor for BMJ Quality & Safety, the leading scientific publication in the field of patient safety and healthcare quality improvement and has authored over 60 medline indexed publications. Dr. Myers received her medical degree from Hahnemann University School of Medicine in Philadelphia, PA and completed her internal medicine residency at the Johns Hopkins Hospital in Baltimore, MD before beginning her faculty career at Penn.
Allison Brown is an Assistant Professor in the Department of Medicine and Department of Community Health Sciences in the Cumming School of Medicine at the University of Calgary.  She completed a PhD in Community Health Sciences at the University of Calgary, specializing in Medical Education, and a MSc in Health Research Methods at McMaster University. She is passionate about teaching quality improvement and her program of research explores how best to teach quality improvement to current and future physicians.