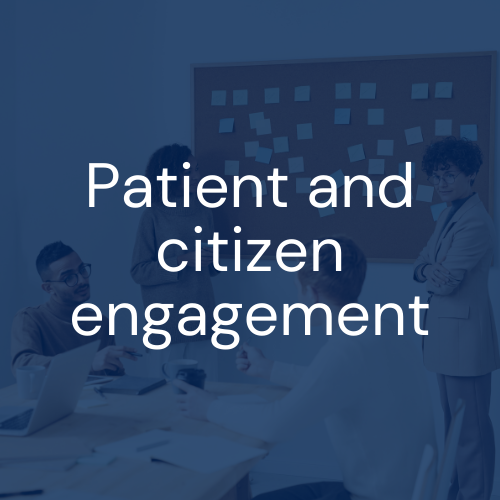 This virtual course (Patient and citizen engagement, working with patients and the public – a resource-based approach to engagement and consultation) is meant for clinicians and health system administrators. We've packed this three-hour session with some of our best tools for rethinking how you can work more effectively with patients, families, caregivers and the public. Drawing on a decade of experience leading hundreds of collaborative, participatory and deliberative projects, within and beyond Ontario's health system, we share our approach to working effectively with patients and the public while breaking down why public processes sometimes go awry.
You should take this course if:
You are responsible for leading or overseeing public consultations in a health care setting
You oversee or develop health policy and want to learn how to integrate patient and public consultation into the policy-making cycle
You are keen to learn both theory and practice and examine case studies that range from interactions with individual patients and stakeholders to organizational, provincial and national exercises.
You want to think more systematically about patient and public engagement
You are looking for energy, community and inspiration
Date and time:
Thursday, November 11, 2021, 12-3 p.m. ET
Cost:
$400 – non-members
$300 – CQUIPS+ members (25% discount!)
---
Speakers:
Peter MacLeod is the principal and founder of MASS LBP, and one of Canada's leading experts in public engagement and deliberative democracy. Travelling the country to visit nearly 100 federal constituency offices inspired his work bridging the distance between citizens and governments. Since 2007, he has hosted hundreds of public meetings and chaired more than three dozen Citizens' Assemblies and Reference Panels in communities across Canada. Today, he writes and speaks frequently about the citizen's experience of the state, the importance of public imagination, and the future of responsible government. He is an adjunct lecturer at the Dalla Lana School of Public Health at the University of Toronto. He also a board member of the YMCA of Greater Toronto, and the former chair of the Wellesley Institute for Urban Health.
Tara Kiran is the Fidani Chair in Improvement and Innovation and Vice-Chair Quality and Innovation at the Department of Family and Community Medicine, University of Toronto. Her work seeks to improve the health care system to better meet the needs of patients from all walks of life. She practices family medicine at the St. Michael's Hospital Academic Family Health Team where she led the Quality Improvement program from 2011 to 2018. Under her leadership, the team began to collect and report more than 20 quality indicators, routinely survey patients on their experience of care, engage patients in service design, and make improvements in areas like timely access and cancer screening. She has learned how crucial it is to partner with patients to improve care and seeks to share her insights with other teams beginning their journey. She is an Associate Professor in the Faculty of Medicine and Institute for Health Policy Management and Evaluation at the University of Toronto, a Scientist in the MAP Centre for Urban Health Solutions at St. Michael's Hospital, and an Adjunct Scientist at ICES. She has held a number of leadership roles over the years including as Board Chair for her Family Health Team, Provincial Clinical Lead for the Ontario Diabetes Strategy and Primary Care Physician Lead for the Toronto Central Local Health Integration Network.